Skin Deep SPA Brookfield, Wisconsin offers the latest skin care facials and chemicals peels in Wisconsin. Our Expert Skin Care Specialists provide you with a personalized skin care regime to fit your specific needs and goals. Lift your skin to a new level of health with skincare facials and chemical peels using the most advanced protocol and products to fit your lifestyle.
We offer many different facials and will customize a facial for them add that we do offer add ons such as micro-dermabrasion and peelsSkin Deep Clean FacialMax Image Anti-Aging Facial, Illuminating FacialImage Skin Care Clinical Couture Designer Peels, The Signature Face Lift, Lightening Life Peel, Wrinkle Lift Peel, Perfection Life Peel, O2 Lift, GLO Therapeutic Peels
Microdermabrasion in Wisconsin by Skin Deep SPA
Microdermabrasion , also known as Microderm, is a cosmetic procedure used to remove the top layer of sun-damaged and dead skin cells and leaving behind a healthier, younger and quickly. Microdermabrasion can generally be added to any facial or peel for a deeper exfoliation.
We offer waxing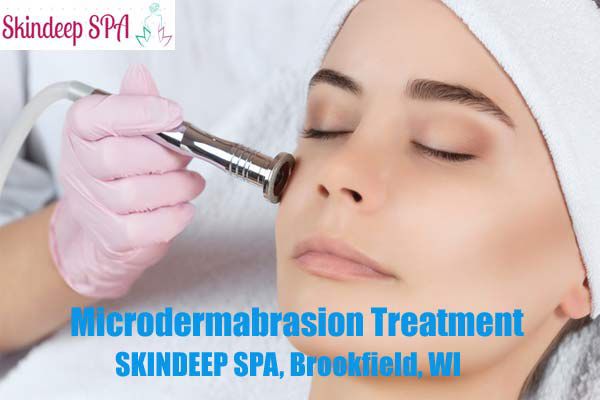 What results to expect from a Microdermabrasion Procedure?
After a microdermabrasion session you can expect tired and dull looking skin to be totally refreshed. Our treatment clears skin congestion, refines open pores, improves texture and encourages your skin to naturally renew itself for healthy regeneration. Our advanced microdermabrasion delivers a uniform exfoliation to all facial areas, without damaging your skin in any way leaving it refreshed and revitalized.

How Microdermabrasion is performed?
We have a strict guidelines involving all the procedures that are performed at our centre and Microdermabrasion starts with a skin assessment by a therapist to identify any problems with your skin and customize the right treatment for you. Your skin is then cleansed using a high quality cleanser to prepare the skin surface for the procedure. Microdermabrasion is performed using a medical grade microdermabrasion wand with diamond tip technology, we pass over the skin two times for a deep exfoliation.